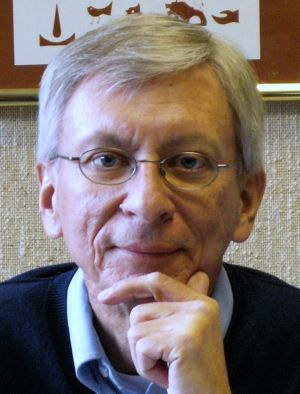 Jim was a lifetime member of the PACS.  Below is his obituary from the STLToday.com website as well as a touching remembrance of Jim by Mike Tsichlis of the Post-Dispatch.
Rygelski, James Jim J. 64, Fortified with the Sacraments of Holy Mother Church, December 18, 2013. Beloved son of the late John & Jessie, nee Niedzwiecki, Rygelski. Beloved nephew, cousin, and dear friend of many. Jim proudly served his country in the US Army. He was the former editor and managing editor of the St Louis Review, 13 year writer & editor for the Suburban Journal Newspaper, managing editor and editor of the South group of papers. Jim was a baseball historian and co-author of numerous books. He was the past President and acting Secretary of the St Louis SABR. He recently retired from the St Louis Public Library. Jim was a devoted and active member of St Ambrose Catholic Church. His kindness to his family, friends, co-workers and neighbors will always be remembered. Per Jim's wishes, anatomical donation was chosen. Services: Visitation 9-10 a.m. Memorial Mass Saturday, December 28, 2013, 10 a.m, St. Ambrose Catholic Church, 5130 Wilson Ave, St Louis, MO 63110. Memorials can be made to donor's choice. www.calcaterrafuneral.com – See more at: http://www.legacy.com/obituaries/stltoday/obituary.aspx?n=james-j-rygelski-jim&pid=168666868&fhid=8520#sthash.BgnOoRqj.dpuf
A sudden passing in a season of hope
It's an awkward matter to discuss the subject of death during the Christmas season. Advent is such a future-oriented time filled with hope and joy at the anticipated birth of the Son of God. But death knows no season. It's amid this backdrop that I learned of the passing of Jim Rygelski – writer, editor, Cardinals historian, Christian, and friend.
Jim wrote posts from a Roman Catholic perspective on the Civil Religion blog on stltoday.com for the past ten months. He came with his own unique set of credentials. A seasoned journalist, over several decades he worked as a reporter at the old St. Louis Globe-Democrat, as chief editor at the Suburban Journals, and lastly as editor of the St. Louis Review, the newspaper of the St. Louis Catholic Archdiocese.
Jim and I began a friendship only recently. Back in early July, I received an e-mail from him complimenting me on a blog post I wrote about the many Christ-like qualities of Superman portrayed in the movie The Man of Steel. The notion of how Christ intersects with popular culture fascinated him as it does me, and he wanted to get together.
We soon met for lunch at Michael's Bar and Grill in Dogtown. Ice-breaker conversation about our personal backgrounds as well as writing and publishing quickly led to what we were both pining to discuss: the state of Christianity in the contemporary world.
We shared a number of observations, and found common ground on many of them. From a perspective that stretched back six decades, Jim was concerned that the church too often had become co-opted by cultural fads, too easily letting go of traditions that it had steadfastly bourn across the centuries. He also felt that the faith had become more politicized over the years, where the desire to shape political outcomes in the name of Christ took precedence over the redemption and transformation of one's soul, which Jim firmly believed would itself lead to a larger societal transformation.
This led me to ask what he thought of Pope Francis, who was starting to raise eyebrows with comments about approaching those with views contrary to church teachings. He told me he was optimistic about the new pope, feeling that the role of the church in the world ought not to become defined chiefly by a few specific hot-button issues. The church needed a broader, bolder witness in the world.
For Jim, doctrine wasn't merely something that flexed with the times. But then again, he said, neither was Christ's insistence on the love of our neighbors. This witness was always rooted in the salvation that came through freely accepting Christ and sharing his love with others. This was the Alpha and Omega of Christian living. He was perplexed by people who claimed they were Christians yet constantly criticizing, bickering, and always unhappy. As a Christian and child of God, I recall him saying, why should anybody be anything but happy?
Jim also wasn't shy about taking provocative stands, as when he suggested that the old Polish Catholic St. Stanislaw parish should change its name as it was in fact no longer Catholic after breaking with the archdiocese and considering joining the Episcopalian Church. The post generated some heated responses in the comments section, but that never bothered Jim. As a veteran journalist he was accustomed to taking heat on the tough subjects. Such are the hazards of the writing trade.
That first lunch lasted over two hours, and I could tell we were on the path to building a good friendship. We decided to continue to meet at the same place for lunch once a month. This happened four more times, and we continued probing many areas of Christian belief and practice.
At our final lunch in November, we discussed in depth the coming challenges that advancing technology might pose for people of faith, a subject I planned to write about. Jim was greatly intrigued, and I could tell was well informed on the topic. While undeniably a man rooted in church tradition, I found him to be even more fascinated and engaged about the future.
By this time Jim had left his post-retirement job as a clerk at the Shlafly branch library in the West End, and told me he was looking forward to being able to spend more time reading, writing, and working with the elderly at his parish, St. Ambrose on the Hill.
The last time I spoke with Jim was on December 4th, the day before we were to meet again. He told me he had been admitted to the hospital for digestive tract problems. He was looking forward to recovering at home and eventually getting together again. I said that I looked forward to getting back together as well, but that he shouldn't push it until he felt well enough. Sadly, that time never came. When I e-mailed him several days later to see how he was doing, I never received a reply.
Along with many others who have been moved by his commitment to Christ, I'm going to miss Jim Rygelski. May he find peace and comfort in the presence of the Savior in whom his faith was unshakable – that Savior whom we are preparing to welcome into the world once again.
http://www.stltoday.com/lifestyles/faith-and-values/civil-religion/mike-tsichlis/a-sudden-passing-in-a-season-of-hope/article_2e347fa8-69c2-11e3-875e-0019bb30f31a.html